Online casinos will try pretty much ANYTHING to keep their players coming back for more, provided of course that its legal (in most countries) and within the realms of common decency. Thankfully, 'player retention', as people like calling it on the inter-web, doesn't involve subliminal messaging or mind control… that we know of.
Instead, a good number of operators have taken to offering goal-based 'adventures' to encourage users to part with thousands of pounds. Casumo was one of the first to use the tactic, basing their entire brand on what was, at the time, a ground-breaking concept.
Their approach proved extremely successful, helping Casumo to become one of the best online casinos in the UK. Not surprisingly, numerous impersonators have since emerged to offer their own take on Casumo's ground-breaking ploy. While some of these imitation 'adventures' are about as immersive as a Buzzfeed op-ed, a few operators have managed to come up with their own engaging odysseys.
But how do these compare to Casumo's pioneering efforts? To find out, we've identified a relative newcomer that offers a similar goal-based adventure scenario: Casino Heroes. We'll now compare both campaigns, considering every element of their pilgrimages of profligacy
Background
Casumo
Casumo was launched in 2012 to much fanfare. Heralding itself as 'The World's First Casino Adventure', its website immediately raised eyebrows by bucking the trend in terms of design. Doing away with large promotional headers and grid-like lobby sections, Casumo's brashly colourful platform perfectly framed its zany adventure concept.
Casino Heroes
Casino Heroes was established two years later and was originally known as Casino Saga. It too comprised an attractive design built around an adventure. Although it's undergone a major overhaul since, the theme remains very much the same, with the campaign still centre stage.
Character(s) and Scenario
Casumo
Casumo's name is based on Japan's plus-size martial art, Sumo Wrestling. However, the adventure's avatar bears little resemblance to the rotund contestants who grace dohyō's throughout the Land of the Rising Sun. Nevertheless, he's dressed in the kind of sumo belt that would chafe areas not usually exposed to daylight – so they got that right. The character is 'hatched' once a player account is created with the adventure played out over a non-specific universe represented by beautifully-rendered cartoon-like planets.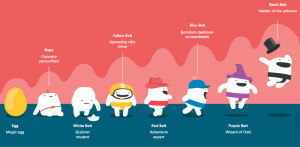 Casino Heroes
While Casumo offers just one character, Casino Heroes features twenty-one, of which all possess different traits that have absolutely no bearing on gameplay. The goal is to locate a crown that's been hidden by an evil dragon called Betser somewhere on Treasure Mountain. The characters and map are superbly-illustrated and help bring life to the 'fantastical' land known as Heroville. There are three islands for players to explore: Treasure Island, Rock of Riches and the Mythical Mountains.
Progress
Casumo
Casumo's belt changes colour as the player progresses further. There are six in all: white, yellow, red, blue, purple and black – the better the active belt, the more attractive the reward. In order to advance through the levels and upgrade their belts, players need to collect experience points by wagering on games. Helpfully, Casumo aren't that shy about awarding points for some of the most mundane activities – things like account creation, logging in and sharing progress on Facebook all contribute experience to varying extents.
Casino Heroes
Player progression on Casino Heroes differs slightly from Casumo, with the developers borrowing elements from video gaming. Each island is populated by a motley crew of bosses who must be overcome in order to move on. Failure to beat a boss results in demotion to the previous region although any trophies or bonuses acquired remain untouched. Progress is measured by a bar which slowly fills as long as players put down minimum bets of £0.20.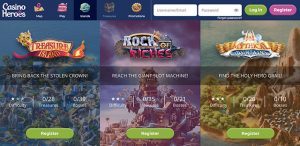 Features and Rewards
Casumo
Every time a player levels up, they receive rewards known as valuables. These include bonuses such as free cash, deposit offers and/or free spins. Trophies are also doled out to players for different achievements such as winning a game three times in a row or receiving a big pay-out. Unlike valuables though, these are only intended for bragging rights and, at the time of writing, have no value other than that.
Casino Heroes
Gameplay is rewarded with rubies which can be redeemed for various gifts at the Ruby Store. These are also awarded once a boss is defeated, together with extra bonus spins. A treasure chest holds the various bonuses and perks which can be withdrawn whenever the player chooses. Once a deposit has been made, bonus spins are instantly added. Hidden treasure bags have also been placed all over the map although we weren't able to ascertain what they are. Apparently they contain 'amazing' prizes which is always encouraging to hear.
Additional Activities
Casumo
As well as normal casino play, Casumo operates various tournaments throughout the week. They're known as reel races and are won by the players who win the most money on selected slot games within a set time frame. While such tournaments offer a great opportunity to lose money at an alarming rate, they can also be pretty lucrative in terms of progress points.
Casino Heroes
At present, Casino Heroes doesn't offer any such tournaments or races, so progress through their particular adventure scenarios is going to be slow but steady – unless of course you're in something of a hurry.
Conclusion
Both Casumo and Casino Heroes offer something new as far as the 'adventure' concept goes. While Casumo was the first to take such an approach, Casino Heroes included video game elements before anybody else. So it would be fair to say that both are trend setters, occupying unique positions in the virtual casino industry. By pushing the envelope in terms of gameplay they've managed to enrich the online gambling experience which has changed forever the manner in which operators rid their customers of money.
Check out our Casumo casino review for more information about its performance in other important areas for a top online casino.